Are you looking for a comprehensive course for Crisis Management? Are you tasked or appointed to implement the crisis management project or program? Are you assigned to take over an existing CM program and do not know where to start?
If any of the answer is "Yes", we would recommend that you pursue the CM-5000 Crisis Management Expert Implementer course offered by BCM Institute.
The CM-5000 or Crisis Management Expert Implementer course is the most comprehensive course which provide the three level of competency "Know-Do-Manage." It will introduce the essential steps of developing CM strategies. It will also teach on designing and implementation of CM plans. Participants will also be taught on preparing and conducting awareness and training programmes. The course is best suited for business continuity professionals as well as new crisis management personnel.
Objectives
This course is designed to guide participants to: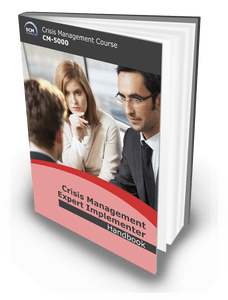 Identify possible

threats

and crises that may disrupt the organization.
Strengthen organizational resiliency to counter major Crises leading to incidents or disaster.
Develop crisis management strategic and tactical strategies.
Develop and implement comprehensive CM plans.
Create and develop CM awareness and training programme.
Conduct CM exercises and tests based on its maturity of the CM program.
Implement CM

audit

and assessment programmes to ensure CM plan effectiveness.
Drive organisation-wide CM program.
Ensure effective

program management

on an ongoing basis.
Who Should Attend?
Crisis Management Planning Team Leader
Crisis Management, Emergency Management or Incident Management team member.
Command Centre Operation or Emergency Operations Centre Team Leader.
CM or BC Managers,
BCM Practitioners
CM Certification

CM Certified Expert (CMCE) Certification is awarded to participants who pass the Qualifying CMCE examination. In an application form, participants must prove that they have at least three years of crisis management (CM) or Business Continuity Management (BCM) experience. This must be sent along with a non-refundable Singapore dollar SGD 150 application processing fee. The application form will be shared upon passing the exams.
Frequently Asked Questions?
These are typical questions asked when you are first looking to attend a BCM course:
Ask yourself, "What is My BCM Competency Level?" before you embark on your learning journey.

Can I do the course in instalments: "Complete Your Final Installment of Advanced Level CM (400 Level) Training Course"
These are some of the questions often asked by potential participants concerning competency-based training (with government funding from the Singapore government):
Should I attempt the WSQ BCM course or BCM Institute's Certification courses?
Can I have this course conducted in-house for all of my unit-level coordinators?
Please feel free to send us a note if you have any of these questions to sales.ap@bcm-institute.org
If you would like to continue knowing more about your crisis management learning journey, click the button below.