The general failure of many executives tasked to implement the organization's first Crisis Communication initiative is the temptation to go into it alone. The Crisis Communication project is often underestimated as it is usually a large project. Usually, in such situation, it is conducted as part of the "peacetime" public relations or corporate communication team.
Hence, it is not possible for an individual to just treat it as a plan writing exercise and build it alone. The access to the perspective of a multi-disciplinary team is imperative to the success of this project when it is started
There are two school of thoughts: Should we have a dedicated crisis communication team or should this function be part of the crisis management team? The first consideration is how large a PR or Corporate Communication team do you have or how complex is your organisation in terms of size and processes?
Crisis Communication Team
The crisis communication or CC team is responsible for collecting information, creating and disseminating key messages and working with the media. The team also monitors response to the crisis and crisis communication.
Within the plan, identify the members of the crisis communication team and describe their roles. Who will act as spokesperson and will there be more than one? Who will field media calls? Who will handle internal communication? Who will serve as back ups in each role? Whose contact information should be included in the CC plan? Make sure that all team members include personal their cell (mobile) phone numbers.
Composition of CC Team

This team is essential to identify what actions should they take and it should comprise of individuals who are key to the situation. Crisis communication team (See sample organisation chart below) may include:
Chief Executive Officer
Head of public relations function
Vice presidents or directors of key functions
Functional managers
Safety or security officer
Legal counsel
A senior manager from the division in charge of the area that was involved in the situation that has brought about the crisis
Eyewitness or anyone else who might be able to shed some light on the situation.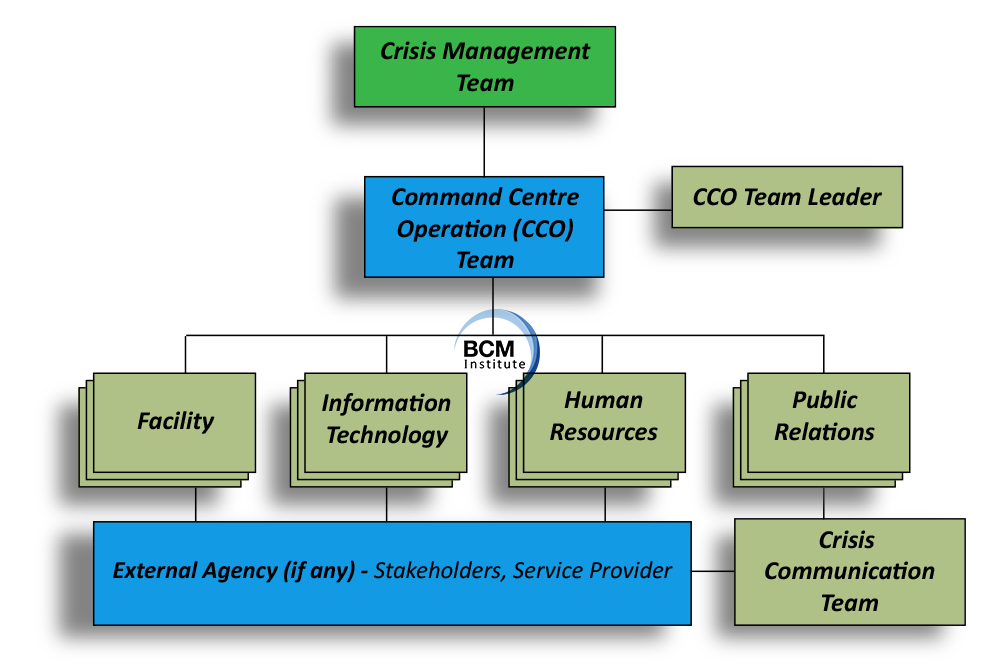 It is crucial to note that this structure is usually part of the crisis management (CM) team as crisis communication team becomes a sub-team of the CM team.
Read More about your learning journey -- click "Minimizing Reputation Lost Through Effective Crisis Communication"
More Information About Crisis Communication Blended Learning
To know more about our blended learning program and when the next course is scheduled, feel free to contact our friendly course consultant colleagues via sales.ap@bcm-institute.org. They are the BL-CC-3 Blended Learning CC-300 Crisis Communication Implementer and the BL-CC-5 Blended Learning CC-5000 Crisis Communication Expert Implementer.
| | | |
| --- | --- | --- |
| | | |
| | | |
| | Please feel free to send us a note if you have any of these questions | |