Here is another type of crisis scenario described in the "What Crisis or Crisis Scenario Should I Be Planning For My Organisation?" that is in the list to handle as part of crisis management and crisis communication.
Natural threats are disturbances in the environment and nature leading to a natural crisis. They are usually beyond the scope of human control.
Natural Threats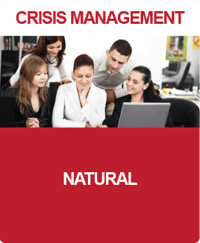 Natural threats are often geographical; how likely and common they happen depends primarily on which country your organization's operations are located at. Indonesia and Japan have the risk of earthquakes, Singapore has a good chance of getting haze from the Indonesian forest fires every year, Australia and California have wild fires, and China and Philippine organizations have to prepare for hurricanes, to name a few brief examples.
Thus, it is important that during risk assessment, one omits all unlikely threats and focuses on only the threats that are staples to the organization's country(s) of operations.
Some of the common threats listed under Natural Threats include but are not limited to:
Blizzard
Cyclone
Drought
Duststorm
Flood
Flash Flood
Fog/ Haze
Heat Wave
Hurricane
Lightning
Rain
Snow
Thunder
Tornado
Tropical storm
Typhoon
Weather front
Water Spout
Wind
Wind Storm
Fire Storm
Fire - Wild, Rural or Urban
Earthquake Tremors
Threat Awareness
There are two basic types of Natural threats: Those with pre-awareness where organizations know that they're coming, and those where they do not. With natural threats like Hurricanes, Blizzards, and Tropical Storms, organizations usually have some degree of pre-warning to prepare for the impending disaster.
Other natural threats, like Haze, come slowly and are of comparatively negligible impact compared to the other natural disasters. On the other hand, you have natural disasters that have limited to no pre-awareness: Earthquakes, Wild Fires, Dust storms that can catch organizations unawares.
Thus, organizations will need their Business Continuity and Crisis Management Plans prepared and updated prior to any natural threats happening.
More Information About CM Blended Learning
To know more about our blended learning program and when the next course is scheduled, feel free to contact our friendly course consultant colleagues via sales.ap@bcm-institute.org.
We look forward to having you with us then.