CM-5000 Crisis Management Expert Implementer
Training Roadmap [Module] [Day] 3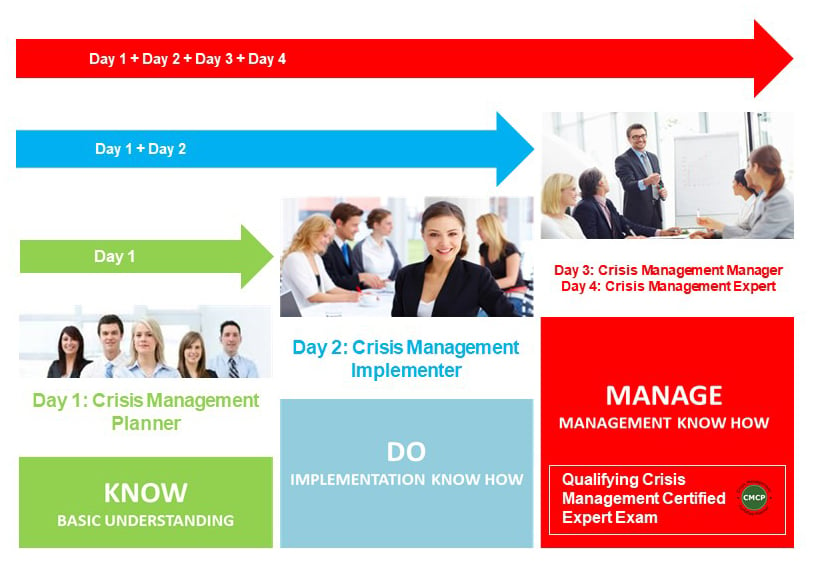 Description of Module 3 Course
Module [Day] 3 discusses in detail the key roles and responsibilities of the Crisis Management Team (CMT) and the teams supporting the CMT.
It discusses the bi-directional flow of information, to the CMT and from the CMT, during the pre-crisis phase, focusing on prevention planning, crisis preparation and crisis monitoring.
In this module, participants will be taught the crisis information flow and how mechanisms for detecting potential crises can be set up, and vital information is collected for assessment, processing and dissemination during the onset of a crisis.
Crisis notification and escalation processes are discussed in-depth in this lesson. This concludes the discussion on crisis information flows by touching on the events post-crisis and how information is used in the aftermath of a crisis.
On top of that, it provides critical considerations for selecting and equipping a crisis command centre. A command centre's functions, types, characteristics and design principles are discussed.
The importance of crisis communications is discussed alongside key concepts and terminologies. The lesson will also address interested parties and strategies to meet audience information needs. Media handling during a crisis and key considerations for crisis communication will be handled.
Students will be introduced to crisis leadership and its importance to success or failure in managing a crisis. The course is conducted in two 3-hour sessions of 2 hours each with one hour of pre-reading.
Module 3 Session 1 [M3-S1] [Duration: 3-hour online workshop and 1-hour pre-reading]
Module 3 Session 2 [M3-S2] [Duration: 3-hour online workshop and 1-hour pre-reading]
Detailed Course Content
Topic

Description

[BL] Module 3 Session 1 - [HL] Morning Session

Establish Crisis Management Team

Identify roles, responsibilities, structure and
composition of CM Team
Understand crisis versus incident

Manage Crisis Flow of Event (Pre-crisis)

Understand the phases and activities of the pre-
crisis stage
Develop crisis code, notification and escalation
process

Manage Crisis Flow of Event (During Crisis)

Understand the phases and activities the during
crisis stage
Walkthrough the activities occurring during a crisis
Understand the critical timeline when managing a crisis

Manage Crisis Flow of Event (Post Crisis)

Understand the phases and activities of the post
crisis stage
Identify the flow of events executed post-crisis
Relate content to ISO 22300 Societal Security -
Guidelines for Incident Preparedness and
Operational Continuity Management

[BL] Module 3 Session 2 - [HL] Afternoon Session

Setup Command Centre Operations

Understand Command Centre terminology, concept and operations
Appreciate strategic and tactical roles during a crisis.
Relate content to ISO 22320 Societal Security -
Emergency Management - Requirements for
Command and Control Management.

Execute Crisis Communication

Understand crisis communication concepts and
terminology
Identify stakeholders and methods to communicate with them
Apply the media management techniques

Manage Crisis Leadership

Identify the key characteristics of crisis leadership
Determine the key principles in leading a crisis

Maintain Training and Awareness

Identify competencies for CM professionals
Develop training needs and schedule
Deliverables

Able to project and program manage a CM programme
Able to execute Crisis Communication

The following section applied to Singaporean and Singapore permanent residents eligible for SkillsFuture Singapore (SSG) funding.
Click the button to find out more about the funding.
SkillsFuture Credit Claim [Initiative starting April 2020]
For claiming of SkillsFuture Credit (additional funding for Singaporeans), click the "SkillsFuture Credit Claimable" button to find out more from SkillsFuture Singapore (SSG).