CM-5000 Crisis Management Expert Implementer
Training Roadmap [Module 2]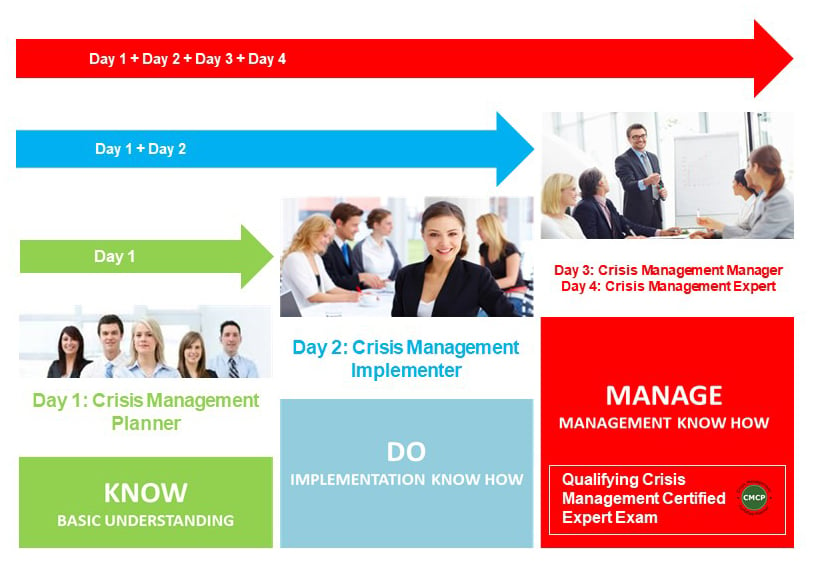 Description of Module [Day] 2 Course
Module 2 aims to provide the participants with the knowledge to identify and categorise different types of crises through crisis risk assessment (CRA) techniques.
This forms a foundation of the crisis management process. To enhance the learning experience, participants will have the opportunity to work through a crisis risk assessment template and present their work in class.
Participant will be shown how a typical business impact analysis report looks like and how the content related to the crisis management strategy. It is important to understand the process of accessing this document from the organisation BCM team.
Common crisis management strategies in response to the various crisis scenarios will be shared with students, and concepts will be reinforced using provided templates, discussions and presentations.
Module 2 will also provide an overview of the contents of a crisis management plan, and how students can go about documenting the plan based on the crisis strategies developed earlier. Various components of the CM plan are discussed, along with emphasis on several key emergency procedures and SOPs.
Detailed Course Content
Topic
Description

Module 2 Session 1

Conduct Crisis Risk Assessment

Identify the types of crises related to your organisation
Categorise the crisis into its category
Identify the treatment to the crisis scenarios

Understand Purpose of Business Impact Analysis

Learn how critical business functions, product and service are analysed and priortised
Understand the retrieval of the BIA report from the BCM team

Module 2 Session 2

Select Crisis Management Strategy

Understand types of crisis, business continuity and recovery strategy in response to the various crisis scenarios
Execute steps and options for crisis communication strategy
Select appropriate crisis communication strategy

Module 2 Session 3

Implement CM Plan

Determine major CM plan component and its design
Develop CM plan and procedures
Identify emergency and crisis responses
Understand CM plan content and templates
Implement crisis communications strategy

Exercise and Test CM Plan

Categorize basic and advanced level tests
Implement notification test and tabletop exercises
Execute CM team level exercises
Develop test plan, scenario and evaluation criteria
Relate to ISO 22390 Societal Security - Guidelines for Exercises and Testing.
Deliverables
Participants should be able to manage and deploy all the CM templates in their organization. They are:
Crisis Risk Assessment
Business Impact Analysis (Preview to content)
Crisis Management Strategy
Crisis Management Plan
---

The next section applied to Singaporean and Singapore permanent residents who are eligible for IMDA's CITREP funding.
Click "CITREP+" button find out more about the funding
SkillsFuture Credit Claim [New Initiative starting April 2020]
For claiming of SkillsFuture Credit (additional funding for Singaporeans), click "SkillsFuture Credit Claimable" button to find out more from SkillsFuture Singapore (SSG).
Click on the buttons below to read more on the course content for other days.
Fi
nd out more about Blended Learning CM-5000 [BL-CM-5]
---
More Information About CM Blended Learning
To know more about our blended learning program and when the next course is scheduled, feel free to contact our friendly course consultant colleagues via sales.ap@bcm-institute.org. They are the BL-CM-3 Blended Learning CM-300 Crisis Management Implementer and the BL-CM-5 Blended Learning CM-5000 Crisis Management Expert Implementer.