Introduction
When organizations experience a major problem that threatens their business, they need to react quickly and effectively to protect their reputation.
Providing clear information to customers and the media can build support and help the company to recover quickly. An important part of the process is having a crisis management strategy in place before problems occur.
Stages and Phases of a Crisis
The activities involved and the management issues at each stage/phase of a crisis are as tabulated in the table below.
Crisis

Phase

Stage

Description

Before

Identification/ Discovery

Pre-crisis

Before the event.

During

Preparation/ Planning

Response/ Control

Recovery

During crisis

Warning: Indications that there are or may be or could be events liable to cause significant impact to the organization.

Crisis Point: When the event begins to cause a significant impact on the organization.

Recovery: The acute stage of the crisis has passed, and the organization can focus on a return to normal operations.

After

Learning

Post-crisis

Evaluation of the effects.

Repair of the organization.
Description of Detailed Phases and Stages of a Crisis
This further section breaks down the details of the "Pre-crisis," "During" and "After" Crisis stages.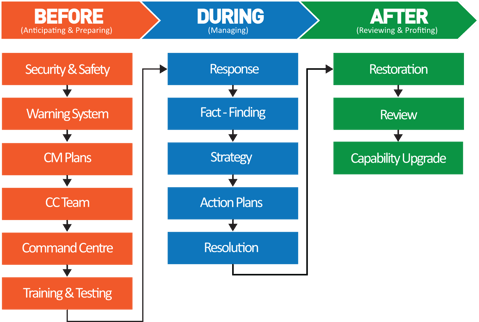 Stages of a Crisis with Detailed Activities
Stages of a Crisis
Description of Detailed Phases and Stages of a Crisis as shown in the diagrams above shows "Stages of a Crisis with Detailed Activities" showcase the detailed stages of a typical crisis and "Stages of a Crisis" is the description of the three stages of Crisis: pre-crisis, during crisis and post-crisis.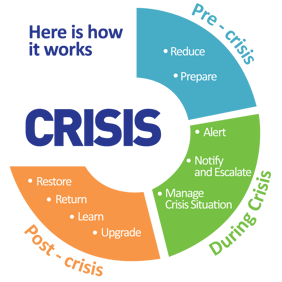 Stages of a Crisis
As a process, crisis management is not just one thing. Crisis management can be divided into three stages:
Pre-crisis,

Crisis response; and

Post-crisis.
The pre-crisis stage is concerned with prevention and preparation. The crisis response (during crisis) stage is when management must respond to a crisis. The post-crisis stage looks for ways to better prepare for the next crisis and fulfils commitments made during the crisis phase including follow-up information. The tri-part view of crisis management serves as the organizing framework for this entry.
Goh, M. H. (2016). A Manager's Guide to Implement Your Crisis Management Plan. Business Continuity Management Specialist Series (1st ed., p. 192). Singapore: GMH Pte Ltd.
Extracted from Chapter 12: Identify the Stages of a Crisis
Find out more about Blended Learning CM-300 [BL-CM-3] & CM-5000 [BL-CM-5]
Please feel free to send us a note if you have any of these questions to

sales.ap@bcm-institute.org