Who is Kang Meng Chow?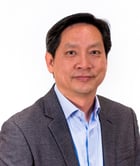 Before founding Averitus, Meng-Chow has been a practicing cybersecurity professional for over 30 years with field experience spanning from technical to management in the various cybersecurity and privacy risk management and assurance capacities in both public and private sector organizations, including the Singapore government, major multi-national financial institutions, and global security and technology providers. His research and part of his experience in the field have been published in his book, "Responsive Security – Be ready to be secure", by CRC Press in Oct 2013, and a Chinese
version, "响应式安全:构建企业信息安全体系", by Broadview in Apr 2018.
In the global cybersecurity industry and community, Meng-Chow has served as elected Director of the (ISC)2 Board from Jan 2015 to Dec 2017, a member of the (ISC)2 APAC Advisory Council from 2004-2014 and 2018 to present, and an appointed member of the Monetary Authority of Singapore (MAS)'s International Cyber Security Advisory Panel since 2019 and the Ministry of Health (MOH) Healthcare Cyber Security Advisory Panel since 2020. He has also served in several standards committee and working group (WG) chair and editorial positions in the Singapore and international standards arena, including Convenor for ISO/IEC SC 27 WG 4 (2006-2012), Associate Rapporteur for ITU-T SG 17/Q6 on Cybersecurity (2004-2008), Chair for Singapore Security and Privacy Technical Committee (1998-2007) and Cloud Security WG (2012-2021). Meng-Chow is also co-Chair and co-Founder of the Asia Regional Information Security Exchange (RAISE) Forum (2004 to present.) Standards that Meng-Chow has led development include ITU-T X.1207:2008 (Anti-spyware), ITU-T X.1205:2008 (Cybersecurity), ISO/IEC 27031:2011, ISO/IEC 27032:2012, and Singapore Standard SS 584:2015 (Multi-tier Cloud Security Standard).

His contributions have been recognized with several accolades, including the Singapore Association of Information Security Professionals (AISP)'s 2019 Cybersecurity Leader Award, (ISC)2 2014 James Wade Service Award, (ISC)2 2010 President Award, and SPRING Singapore (now known as Enterprise Singapore)'s 2008 Distinguish Partner Award (Standard).

Besides contributing to the industry and community, Meng-Chow continues his research and teaching in cybersecurity as an Associate Professor (Adjunct) with the School of Computer Science & Engineering at Nanyang Technology University, Singapore, since 2014.
Academic Qualification
---
PhD in Information Security Risk Management
Southern Cross University, Australia

MSc degree in Information Security
Royal Holloway and Bedford
New College, University of London




Professional Qualification
---
| | | | |
| --- | --- | --- | --- |
| | Certified Information Systems Security Professional (CISSP) | | |
Current BCM Career
---
Director


Averitus Pte. Ltd.
Associate Professor (Adjunct)
Nanyang Technological University, Singapore.
Past BCM Career
---
Director

(ISC)2
Publications
---
Responsive Security - Be ready to be secure
CRC Press - October 2013
响应式安全:构建企业信息安全体系
Broadview - April 2018.
---

Come Join Our Online Blended Learning Training with Certification
Competency-based Course

Certification Course