Welcome to the frequently asked questions or FAQ for BCM Institute's IT Disaster Recovery DRP-300 Blended Learning course.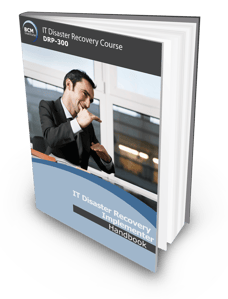 What is included in the course fee?
When you are attending the course, the fee for Singapore Dollar (SGD) 2,400 includes
the set of pre-readings

access to BCMPedia definition and guidance notes for the following templates:
After the course, the fee will include:
review on assessment for IT DR Risk Assessment [RAR], IT Disaster Recovery Strategy [BCS], IT DR Plan [PD]
DRCS application processing fees once you complete Module 2: Facilitated Online Workshop)
However, the DRCS application must be completed within 1 month of the notification on the successful completion of Module 2 for the BL-DR-300 course. If this is not done, an application processing fee of SGD 75 will be payable for the application of DRCS certification.
Do I have to complete the Module 1: E-Learning course first prior to joining the Module 2: Facilitated Walk-through course?
The

Module 1: E-Learning

package is compulsory as it forms the initial assessment for the "grounding" of IT DR knowledge. The successful completion of the course will allow the participants to be awarded the "Disaster Recovery Certified Planner" certification. [click DRCP icon to find out more]
Once you have completed Module 1: E-learning entitled "IT DR Fundamental Package", you may proceed to attend

Module 2: Facilitated Online Workshop

.
Do I need to complete the DRCS exams?
If you are attempting Blended Learning, there will be no examination.
The equivalent of the DRCS examination will be conducted;

as part of Module 1: E-Learning
successful completion of 4 assignments as part of Module 2: Facilitated Online Workshop
I noticed that the "Module 2: Facilitated Learning Workshop" is held at Asian Timing, is there any timing for me as I reside outside of the Asia Pacific Region?
The timing of the sessions are catered for two zones:

US/ Europe/ Middle East
Asia Pacific

The time of the 1-hour online workshop is set at Singapore Timing which is Greenwich Meridian Time (GMT) + 8 hours.

14:00 (pm) Singapore (SG) Time is 11:30 (am) as Mumbai is GMT+5.5 Hours
21:00 (pm) Singapore (SG) Time is 16:00 (pm) as Kenya is GMT-5 Hours
What Certificates will I be Receiving Upon Competing in the course?
As the blended learning course is conducted over a period of 10 to 12 weeks, you will be expected to receive a certificate of completion (COC) and an initial "Disaster Recovery Certified Planner" certification.
Learn more by reading about What Certificates Will I Receive After Completing DRP-300 (Blended Learning)?
Let us know if you need further clarifications, and we'll be glad to help.
---
More Information About IT DR Blended Learning
To know more about our blended learning program and when the next course is scheduled, feel free to contact our friendly course consultant colleagues via sales.ap@bcm-institute.org. They are the BL-DR-3 Blended Learning DR-300 IT Disaster Recovery Implementer and the BL-DR-5 Blended Learning DR-5000 IT Disaster Recovery Expert Implementer.