Welcome to the frequently asked questions or FAQ for BCM Institute's WSQ courses.
This is for the Singapore government SkillsFuture Singapore or SSG's Workforce Skills Qualifications (WSQ) courses offered by BCM Institute.
In August 2020, BCM Institute will be offering Blended Learning WSQ Courses.
1. What is included in the course fee?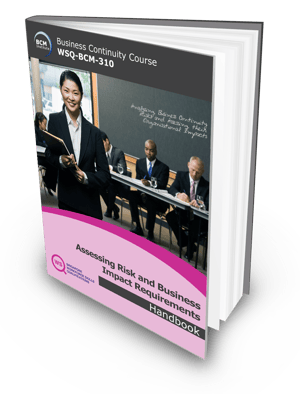 [Onsite Only] The course fee includes
The course ware (sample handbook cover) and a dictionary
Morning and afternoon tea-break
[Blended Learning] Terminology is accessible via BCM Institute's bcmpedia.org and guidance notes for each of the templates
2. Is there pre-requisite before I can join the course?
There is no pre-requisite to join the course. All BCM practitioners with or without experience are welcome to join.
For those attending the crisis management (CM) and crisis communication (CC) courses, it is strongly encouraged to attend the 300 level course (WSQ-CC-350 or WSQ-CM-360) first.
3. Is there any examination?
No, there is no examination, however, you are required to sit for the assessment on a separate day.
4. How is the WSQ assessment like?
[Onsite]
The assessment will be a half day (1 hour to 3 hour) assessment conducted face-to-face with a WSQ qualified assessor. The assessor will ask questions to assess your understanding.
Where is the assessment held for public courses?
You will be required to bring your completed written assignment as evidence of completion to be submitted immediately after the assessment

Usually most of the work is completed during the workshop and updated before the attending the assessment.
[Blended Learning] The assessment will be conducted via ZOOM video conferencing. You are required to placed your identification card (NRIC) before the start of the assessment.
5. What if I fail the assessment?
You need to re-take the assessment on another day.

We recommend that the candidate review the course content outside the assessment room and complete the re-assessment on the same day.
6. What if I did not complete the assessment?
You will be considered as non-competent and no Statement of Attainment (SOA) will be awarded to you.

You are required to pay the complete course fee in full, which includes the SSG's funding requirement.
These are some of the additional questions often asked by participants with regards to competency-based training (with government funding from the Singapore government) and the other types of course offering from BCM Institute.

7. What is Certification and Competency-based Courses?
Can I have this course conducted in-house for all of my unit-level coordinators and organisation?
Let us know if you need further clarifications, we'll be glad to help! Contact sales.ap@bcm-institute.org
WSQ Course Offerings
WSQ Course Offerings

Business Continuity Management
WSQ-BCM-310
WSQ-BCM-320
WSQ-BCM-330
WSQ-BCM-470

Crisis Management

WSQ-CM-360
WSQ-CM-460
Crisis Communication
WSQ-CC-350
WSQ-CC-450
Please feel free to send us a note if you have any of these questions to sales.ap@bcm-institute.org