You may have just completed reading "What is a Certification vs Competency-based Course?" and would like to know the detailed comparison between Crisis Communication (CC) WSQ competency-based training and the CC certification course offered by BCM Institute.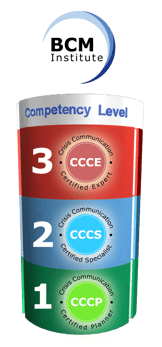 In view of the introduction of competency based training, we were often asked about the possibility of getting into BCM Institute's certification program. We will need to emphasized that the competency-based training funding by SkillFuture Singapore is independent of our certification program. However, upon completion of the competency based training and you are still keen on pursuing our certification program, there is a "bridging" route for you.
Yes there are 2 'routes' to getting your intermediate level CC certification or Crisis Communication Certified Specialist (CCCS) certification. One will be via the competency track and another will be the certification track. But what are the differences between these 2 tracks and which one should you be attending?
The main differences that may affect your decision in following either one of the tracks will probably be course duration and course fee itself. Perhaps the comparison below could give you a better picture to decide the best track that you should be on.
Track

Competency

Certification

Course Code
Course duration

Attend two days of course with 1.5 hour assessment on a separate date

Attend two days of course and 2.5 hours exam after the two day course

Course Content
CC concepts and fundamentals; Component of CC plans; Identify stakeholders or interested parties; Identify spokesperson; Develop working protocols with PR team; and Understand CC strategies and procedures.
BCM Planning methodology encompassing CC activities; Identify crisis scenario and implement at least two plans; Identify, appoint and assemble CC Team within CM structure; and Develop holding statements.
Instructor/ Facilitator

Must attained WSQ Advanced Certificate in Training and Assessment (ACTA) awarded by SkillsFuture Singapore (SSG)

Senior industry professionals with a minimum of 10 years of Crisis Communication experience
Cost

SGD 380 for Singaporeans age 40 years and above

SGD 1,010 for Singaporeans age 39 years and below

+ CCCP exam at SGD 125

Refer to Company-sponsored or Self-sponsored for a detailed explanation.

SGD 2,200 (CCCS exams fees included)

Funding
All course fees have been funded based on the SSG's criteria
Not applicable
Certificate

Statement of Attainment certificate

Certificate of Attendance
Certification

(Optional and not part of WSQ course) Crisis Communication Certified Planner (CCCP) certificate upon passing the Qualifying Crisis Communication Certified Planner exam.

Crisis Communication Certified Specialist (CCCS) certificate upon passing the Qualifying Business Continuity Certified Specialist exam.

Do You Want Us to Contact You?
WSQ Course Offerings

Business Continuity Management
WSQ-BCM-310
WSQ-BCM-320
WSQ-BCM-330
WSQ-BCM-470

Crisis Management

WSQ-CM-360
WSQ-CM-460
Crisis Communication
WSQ-CC-350
WSQ-CC-450
Please feel free to send us a note if you have any of these questions to sales.ap@bcm-institute.org