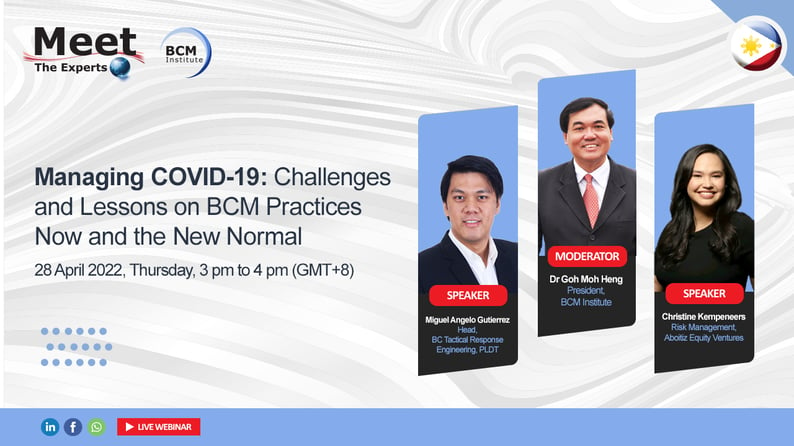 Managing Business Continuity During and Post COVID-19 for A Large Conglomerate
Synopsis
This session provides an overview of BCM professionals on the challenges faced while implementing and sustaining your business continuity during COVID-19.


Christine Kempeneers, CMCE, Assistant Vice President, Risk Management at Aboitiz Equity Ventures spoke on this topic. Click Photo (above) to find out more about Christine.
Key Success Factors Due to Prior Preparation
Many, if not most companies, in the Philippines were taken by surprise by the COVID-19 pandemic. Although there were talks about pandemic preparation, these were usually overtaken by other more pressing issues. The Aboitiz Group was no different but the successful management of the pandemic within the group can be attributed to several factors. This conglomerate operates in four sectors: consumer goods, utilities, financials, and industrials.
Adaption of Existing Business Continuity Plan
There were existing BCPs covering Loss of Technology, Loss of Access to the Facility and Loss of Staff. Although they were not pandemic specific, the plans were adopted and adjusted to meet the group's current requirements.
Current with Existing Crisis Management Protocol
Employees were familiar with the existing emergency response and crisis management processes which paved the way for quick activation and deployment of the COVID Taskforce, which later on became the COVID technical working Group (TWG). This was the team responsible for the centralized management of the pandemic across the Group.
Prompt and Decisive Executive Management Support
Top Management provided support and allocated resources which empowered the COVID TWG to manage the pandemic, protect the employees, ensure the continuity of operations and provide services to our stakeholders.
COVID-19 Response Success Drivers
Early Activation of COVID Task Force
The AEV Taskforce was activated to prepare for the potential entry and impact of the Wuhan Virus 2 weeks before the 1st case was reported in the PH. This Taskforce was later expanded and met on a regular basis for the duration of the pandemic.
Consultations with Subject Matter Experts and the Government
Given the limited information available at the time, the COVID Taskforce reached out to experts with experience in containing and managing infectious diseases as well as to partners within government agencies. Their feedback was a key input in the group's response, quarantine protocols and planning for continuity of operations.
Communication to Team Members
The Group was on heightened alert as news broke of the lockdown in Wuhan, China. Health reminders, quarantine guidelines and travel restrictions were communicated to Team Members ahead of the Chinese New Year Celebration in 2020.
Scenario Analysis and Planning
Operating units within the Aboitiz Group used the situation in Wuhan, China as a reference point for their scenario analysis and planning. They made adjustments to their existing BCPs taking into consideration what was observed in Wuhan, the quarantine requirements being communicated by the Department of Health, recommendations of infectious disease doctors and their respective business continuity objectives.
Regular Senior Management Meetings
By February 2020, the Group Management Committee, composed of all the CEOs of Aboitiz businesses, met on a daily basis to assess the situation on the ground and the preparation for a rumoured lockdown in Metro Manila. These meetings would continue on, in regular intervals, until early 2022.
Opportunities and Lessons
Amidst all the challenges brought about by the pandemic, it also provided a lot of opportunities to learn. Some of these lessons include:
Pivot, Pivot, Pivot
No plan can be considered perfect nor can they encompass everything that can happen during a crisis. Since 2020, we've seen several mutations of the virus and by the same token, multiple changes in government protocols. It is important that the crisis management team and business continuity teams are agile and able to adjust to these changes in the environment.
It's Not All About You
Much as organizations tried to be prepared, if their stakeholders especially their supply chain fail, there is no guarantee that your plans will work. Key suppliers and stakeholders must be part of your planning and testing. The organization is only as strong and resilient as its weakest link. Everyone is now being called to collaborate and work closely with stakeholders to build more holistic business continuity plans.
There is Always More Than Meets the Eye
When facing a crisis, the team can get fixated on what is happening in front of them without seeing what happens in the periphery. The response activities and efforts to ensure continuity of operations also open up their own set of risks. One example is when organizations transitioned to working remotely during the pandemic, this widened their digital footprint which exposed them more to cyber threats. It is important to remember that just because the situation has been managed doesn't mean that risks have been fully averted.
2022 Confirmed MTE Live Webinars
| | |
| --- | --- |
| | |
| Lesson Learnt from COVID 19: Updating and Realignment of Global BCM Practices for 2022 | Managing COVID-19: Challenges and Lessons on BCM Practices for Malaysia |
| | |
| Revisit Business and Cyber Resilience in the New Normal? | Managing COVID-19 in the Philippines: Challenges and Lessons on BCM Practices Now and the New Normal |
The content is an extract of the Meet-the-Expert webinar
"Managing COVID-19 in the Philippines: Challenges and Lessons on BCM Practices Now and the New Normal" presented on 28 April 2022 by Christine Kempeneers, Assistant Vice President, Risk Management at Aboitiz Equity Ventures

.
---

Come Join Our Online Blended Learning Training with Certification
Back To

Reference Guide

Goh, M. H. (2016). A Manager's Guide to Implement Your Infectious Disease Business Continuity Plan, 2nd Edition. GMH Pte Ltd.