Who is Ruwaid Ali Ajaj?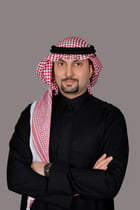 Ruwaid is a highly dedicated Risk Management Executive with more
than 15 years of professional experience in the Banking and Financing sectors in KSA. He manages various types of risk, such as Credit Risk, Operational Risk, Liquidity Risk, Market Risk, Cyber Security and Business Continuity and engages in several control and support functions such as Governance, Audit, Compliance, Collections and Operations.
Serving with Deutsche Gulf Finance, one of the leading Real Estate financing companies in the region, which offers diversified residential and commercial real estate financing products offered for Individuals, SMEs and Corporates clients across the kingdom. His role is to ensure all types of risks the organisation is exposed to are effectively managed.


Some of the key accomplishment made are
Academic Qualification
---
Master in Business Administration

University of Business & Technology
Jeddah, KSA

Higher National Diploma in Fraud Control (HND)
The Arab Academy
Jeddah, KSA

Master Prep. Kaplan Program

University of Buffalo, USA

Bachelor of Engineering, Marine

Northumbria University, Newcastle, UK

High School, Science

Manarat Jeddah School
Jeddah, KSA
Professional Qualification
---
| | | | |
| --- | --- | --- | --- |
| | CRM - ISO 31000 (Certified Risk Manager) | The PECB, 2022 | |
| | Leading for Results | Insead, 2022 | |
| | Business Continuity Certified Expert (BCCE) | BCM Institute, 2021 | |
| | Consultation - Risk Management | The Financial Academy, 2021 | |
| | The Identification of Operational Risk Management | SNB Training, 2014 | |
| | Certified Compliance Officer (CCO) | Institute of Banking, 2013 | |
| | | | |
Current BCM Career
---
Chief Risk Officer
Deutsche Gulf Finance
Riyadh, KSA
Past BCM Career
---
VP, Risk Management

Saudi National Bank (SNB)
Jeddah, KSA

Manager, Credit Policies

Saudi National Bank (SNB)
Jeddah, KSA

Senior Officer, Risk Control
Saudi National Bank (SNB)
Jeddah, KSA


Office, Risk Control
Saudi National Bank (SNB)
Jeddah, KSA

Power Plant Engineer

RAWEC
Rabigh, KSA

Saudi Aramco
KSA/UK
Other Training - Certifications
---
Team Leadership
Project Management
Problem Solving & Decision Making
---

Join Our Online Blended Learning Training with Certification
Competency-based Course

Certification Course