The Crisis management (CM) plan is often embedded into the business continuity (BC) plan or vice versa. This is not a problem unless the execution and responsibilities are clearly delineated in the both plans.
Business Continuity Management (BCM)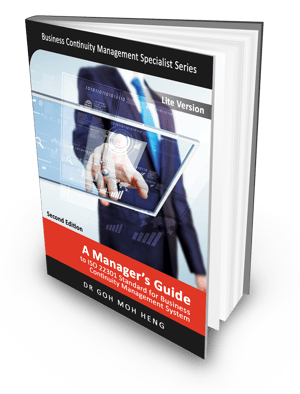 Business Continuity (BC) Management or BCM is a holistic management process for identifying potential impacts from threats, and for developing response plans. The objective is to increase an organization's resilience to business disruptions and to minimize the impact of such disruptions.
Think of BCM as the strategic process (Refer to detailed explanation on the BCM "Umbrella") and BC as the execution when a disaster occurs. The consequence of the activation of a business continuity plan is a result of a disaster. In its simplest form, your organization is denied of its access to either/or its people, processes or infrastructure.
Crisis Management (CM)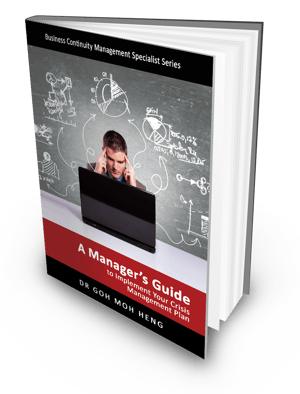 Crisis Management or CM is the overall coordination of an organization's response to a crisis, in an effective, timely manner, with the goal of avoiding or minimizing damage to the organization's profitability, reputation, or ability to operate.
The key is to protect your reputation and in most crises (except for disaster which is sub-categorized as crisis), ensure the primary location is not denied access.
If your crisis management plan is not directed and executed by senior management, there is a concern that both CM and BC plans and responsibilities are heavily overlapped.
What is Crisis Management Vs Business Continuity Management?
During a crisis, your organization is expected to execute the crisis management plan and during a disaster, the business continuity plan. The decision making process for the handling of the crisis or disaster is shouldered by the senior management team. The execution of the necessary crisis response and should there be a denial of access to the "people, process and infrastructure, "the recovery activities in accordance with recovery strategies and business continuity plans will be executed.
What is confusing is the overlapping of activities for the crisis response and continuity of operations. It is good to start any discussion from the definition of a crisis and disaster. The question to ask when the incident occur, "Is this a crisis or a disaster?"
For the readers, this is the beginning of a longer discussion as the entire concept on the differences cannot be concluded here.
Useful References
A list of the other references can be found in BCM Planning Book Series: Implementing and Managing Your BCM Project and Program
If you would like to continue to know more about your crisis and business management learning journey, click on the button below.