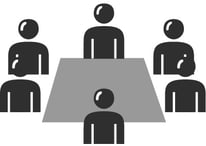 An organisation's management role is to set the direction and approve of any modifications to BC plans. Members of the management often held the organisation's BCM Steering Committee – which also comprises of the Organisation BCM Coordinator and key BU BCM Coordinators. It is important to be kept aware of the organisation's BC readiness and this is achieved through the Organisation BCM Coordinator's reports and updates on the results of various tests and exercises. During a crisis, the BCM Steering Committee typically morphs to become the Crisis Management Team.
Hence, the Senior Management will need to know what are the three levels of competencies which is "Know-Do-Manage". Usually, the senior management will need the knowledge but does not need to go into the detailed implementation or maintenance of the BC plans. However, they will still need the necessary BCM knowledge which is the "Know" competency and the "Manage" competency to set strategic directions for the BCM program.
Roles and Responsibilities
The full range of roles and responsibilities for Executive Management are to:
Drive organisation's BCM Policy

Be aware of organisation's BC Plan and response during a crisis

Ensure the integration of the organisation's BCM into its business processes

Promote the continual improvement of the organisation's BCM
What Training Should Senior Management Attend?
To acquire these competencies, it is suggested that Executive Management considers the following list of courses and certification programmes:
BCM briefing for Senior Management;

BCM or CM Simulation Exercise; and

Crisis Management briefing for Senior Management.
With the focus on managing the organisation's BCM programme or for those who are certified with the ISO22301 BC management system (BCMS), the courses recommended are aimed at enhancing the management's skill set to develop, implement and maintain an organisation-wide BC Plan, which is different from that of Organisation and BU BCM Coordinators.
Related Courses and Briefing
| | |
| --- | --- |
| | BCM for Senior Management (Course Code: BCM-100 BCM Briefing for Senior Management) |
| | BCM (Course Code: BCM-2050 BCM Simulation) /CM Simulation Exercise (Course Code: CM-2050 Crisis Simulation) |
| | Crisis Management Briefing for Senior Management (Course Code: CM-100 CM Briefing for Senior Management) |
Contact Us
Contact the BCM Institute team to develop a learning roadmap for your organisation or inquire about the relevant courses and briefing session @ Info@bcm-institute.org
Looking for the other BCM Roles - Click Business Continuity Management: What is My Role?
Need to Upgrade Your BCM Competency?
More Information About Blended Learning BCM-5000 [BL-B-5]
To know more about our blended learning program and when the next course is scheduled, feel free to contact our friendly course consultant colleagues via sales.ap@bcm-institute.org. They are the BL-B-3 Blended Learning BCM-300 ISO22301 BCMS Implementer and the BL-B-5 Blended Learning BCM-5000 ISO22301 BCMS Expert Implementer.