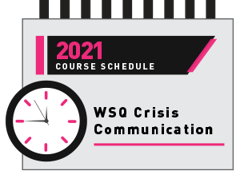 This is the Run of WSQ Crisis Communication course for the year 2021.
For those who are completing the WSQ CC series, you are required to complete WSQ-CC-350 first in order to proceed to WSQ-CC-450.
The detailed "course content" and "course schedule" for Run 3 (Three) and Run 4 (Four) are appended below.
Year & Run
[WSQ-CC] 2021 Run 3
Period
July - September 2021

Click for detailed Course Description

Click for detailed Course Overview
Module

1
2
Day 1
23 Aug 2021
30 Aug 2021
Day 2
24 Aug 2021
31 Aug 2021
Assessment Date
3 Sept 2021
3 Sept 2021
* You are required to complete WSQ-CM-360 to proceed to WSQ-CM-460
Year & Run
[WSQ-CC] 2021 Run 4
Period
October to December 2021

Click for detailed Course Description





Click for detailed Course Content

Module

1
2
Day 1
25 Nov 2021
2 Dec 2021
Day 2
26 Nov 2021
3 Dec 2021
Assessment Date
6 Dec 2021
6 Dec 2021
* You are required to complete WSQ-CM-360 to proceed to WSQ-CM-460
WSQ Course Offerings

Business Continuity Management



WSQ-BCM-310
WSQ-BCM-320
WSQ-BCM-330
WSQ-BCM-470

Crisis Management

WSQ-CM-360
WSQ-CM-460
Crisis Communication
WSQ-CC-350
WSQ-CC-450
Please feel free to send us a note if you have any of these questions to sales.ap@bcm-institute.org