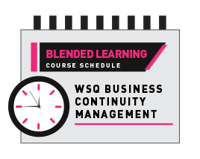 This is the Run 1A of WSQ Business Continuity Management Blended Learning for the year 2022.
The detailed schedule for Run 1A is as appended below.
For those who are completing the WSQ BCM series, you are required to complete all three courses in sequence i.e, BCM-310, BCM-320 and followed by BCM-330.
Year & Run
[BL-BCM-310-320-330] Run 1A
Quarter
One (Jan - Mar 2022)
Module

Start date

28 Feb 2022

28 Feb 2022

28 Feb 2022

End date
10 Mar 2022
17 Mar 2022
24 Mar 2022
Assessment
25 Mar 2022
25 Mar 2022
25 Mar 2022
The detailed session of each course is as per below:
E-learning

You are required to attend 2 self-paced e-learning modules for each course.
| | | | |
| --- | --- | --- | --- |
| Duration | 28 Feb - 10 Mar 2022 | Start and end date for e-learning | |
| Week | 1 | Elapse time assigned for e-learning | |
| Self Study | 4 hours | Total time (in hours) needed for e-learning for each course | |
WSQ-BCM-310

Assessing Risks and Business Impact Requirements
Topic
Learning Activity
Duration (Hour)
Date/ Deadline
Time (GMT+8)
Compulsory Attendance
Risk Analysis & Review


Workshop
3

8 Mar 2022

2:00 pm

Submit Assignment
8 Mar 2022
11:59 pm
Business Impact Analysis


Workshop
3

10 Mar 2022

2:00 pm

Submit Assignment

10 Mar 2022

11:59 pm
WSQ-BCM-320

Developing Business Continuity Strategies and Plans
Topic
Learning Activity
Duration (Hours)
Date/ Deadline
Time (GMT+8)
Compulsory Attendance
Business Continuity Strategy
Workshop
3

15 Mar 2022

2:00 pm

Submit Assignment
15 Mar 2022
11:59 pm
Plan Development
Workshop
3

17 Mar 2022

2:00 pm

Submit Assignment

17 Mar 2022

11:59 pm
WSQ-BCM-330

Testing and Exercising Business Continuity Plan

Topic
Learning Activity
Duration (Hours)
Date/ Deadline
Time (GMT+8)
Activity
Testing and Exercising
Workshop
3

22 Mar 2022

2:00 pm

Submit Assignment
22 Mar 2022
11:59 pm
Audit for BCM
Workshop
3

24 Mar 2022

2:00 pm
Assessment

Oral Questioning via Zoom
| | | |
| --- | --- | --- |
| Date | 25 Mar 2022 | WSQ assessment over ZOOM on the content of all 3 modules by WSQ assessor. Note that it is an open book exercise. |
| Duration | 1 hour | |
| | | |
WSQ Course Offerings

Business Continuity Management
WSQ-BCM-310
WSQ-BCM-320
WSQ-BCM-330

Business Continuity Management

WSQ-BCM-410
WSQ-BCM-470

Crisis Management

WSQ-CM-360
WSQ-CM-460
Crisis Communication
WSQ-CC-350
WSQ-CC-450
WSQ-BCM Schedule
Please feel free to send us a note if you have any of these questions to sales.ap@bcm-institute.org