Managing COVID-19: Challenges and Lessons on BCM Practices for Malaysia
COVID-19 BC Management Journey: Good Practices and Lessons Learnt
Synopsis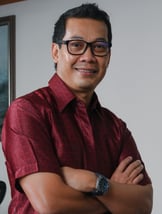 This session provides an overview of BCM professionals on the challenges faced while implementing and sustaining your business continuity during COVID-19.

Mohd Radzuan Mohamed, Chief Executive Officer of Malaysian Takaful Association (MTA), a seasoned Chief Risk Officer and Business Continuity professional.
He will share his view on a case study of his previous organisation FWD during the start of the outbreak. Radzun will share some of the insight of adequate preparation prior to the outbreak and pandemic outbreak since SARS was never taken seriously. Click the photo to find out more about Mohd Radzuan Mohamed
Background and Timetable of Response to COVID-19
This is an overview of the preparatory and anticipatory effort conducted once the virus is detected in Wuhan, China. Instead of waiting for the government and health agencies to initiate and direct response, the speaker shares the payoff of taking the business continuity initiatives to prepare, reduce and respond.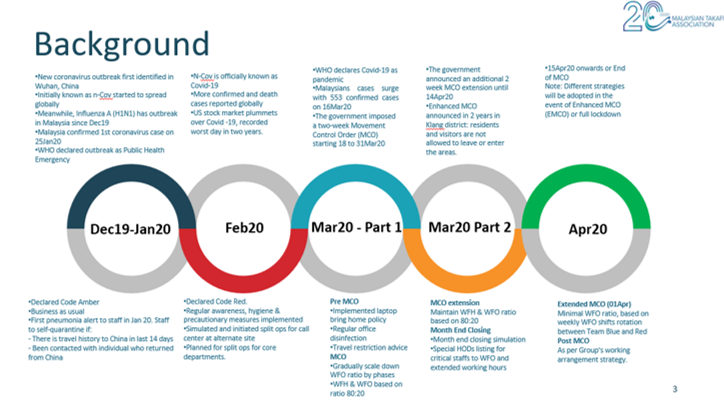 Overview of Key Milestones Achieved
FWD Malaysia was recognised by the FWD group as the most successful, in terms of handling the COVID-19 outbreak since the start of the outbreak.
For 1st phase of lockdown in Malaysia, the Malaysian operation was able to achieve normalization in terms of preparedness, operation and handling within a short period of time of fewer than 2 weeks.
For 2nd phase of lockdown in Malaysia, the management of COVID is already considered as Business as Usual (BAU) with further improvement to our approach
Following the subsequent phases of lockdown, the Malaysia operation had already achieved normalization.
What were the key contributing factors?
Regular Testing: In Oct 2019 MY conducted its BCP test as usual.
Pre-empt Testing of Specific Scenario: In Nov 2019 when Wuhan breakdown MY decided to conduct a special test specifically on pandemics.
Fine-tuning of BC Pal and Procedures. In Feb 2020, about a month prior to the announcement of lockdown, FWD Malaysia conducted a tabletop to identify an operational approach using the full lockdown scenario.
Decision to Escalate. 2 weeks prior to the Malaysian government announcement FWD Malaysia made the assessment that our risk is higher than the rest of the financial institutions (FIs) as FWD is part of FI discussion group and had decided to establish our strategy beforehand.
Execution of Crisis and Business Continuity Plans. 18 March 2020 lockdown in Malaysia. Meanwhile, like other Malaysians, FWD Malaysia is in shock on the drastic measures, however, our ability to execute various plans developed using the scenario has enabled us to resume operations at 100% capacity almost instantaneously, within a few days.
Outcome of Consistent Planning. In 2020 and 2021 FWD Malaysia's business operations were not affected and experienced an increase in business. For both years we beat our STI (KPI) by 5% and 7% respectively awarded by the Group for our management of COVID-19.
Lessons learned
Testing if Often Regarded as A Waste of Time. The 'academic' exercise to ensure that our BCM is fully tested and up to date pays off by rewarding us with a high level of preparedness in the event the test scenario manifest.
Plan, Plan and Plan. FWD Malaysia has put a lot of planning and effort into ensuring that our test scenario is as 'realistic' as possible no matter how 'unrealistic' it was considered then.
Continual Risk Assessment. Combined with active risk assessment we are able to react to the situation more proactively. The key is to assess the risk based on your own needs and circumstances.
Sharing of Good Practices. We also shared and engaged more actively with our group counterparts to learn how other business units (countries) were responding to the situation and able to adapt to the new ideas sometimes much faster than the country itself.
Focus on What Needs to be Done. Monitoring of the critical components of the operations was done every End of Day (EOD) and reporting is done on a daily basis. This keeps everyone vigilant and on their toes.
Do Not Miss the Other Threats. As our operation stabilize due to the Covid-19 strategy in place, we were able to address various operational threats like cyberattacks, operational disruptions, legacy issues more effectively as the crisis management structure are always on 'standby mode.
Constantly Evolve and Be BCM Relevant. It is very important to keep your BCM approach relevant to business by supporting the business achievement.
Finally, Key Take Away
Develop a Comprehensive Test and Exercise Program. Test your plan and keep it up to date. It need not be complicated and should get everyone involved.
Perform Your Risk Assessment (RA) Together with Your Risk Management and Business Continuity Team. Link your risk management with BCM and avoid doing the RA on a yearly basis just for compliance purposes.
Stay Relevant with Strategy with the Changing Environment. Your BCM strategy must be relevant and make business sense.
Collaborate and Engage. Engage more with others for a steeper learning curve, especially when addressing something unknown.
2022 Confirmed MTE Live Webinars
| | |
| --- | --- |
| | |
| Lesson Learnt from COVID 19: Updating and Realignment of Global BCM Practices for 2022 | Managing COVID-19: Challenges and Lessons on BCM Practices for Malaysia |
| | |
| Revisit Business and Cyber Resilience in the New Normal? | Managing COVID-19 in the Philippines: Challenges and Lessons on BCM Practices Now and the New Normal |
| | |
| --- | --- |
| | The content is an extract of the Meet-the-Expert webinar "Managing COVID-19: Challenges and Lessons on BCM Practices for Malaysia" presented on 10 Mar 2022 by Mohd Radzuan Mohamed |
---

Come Join Our Online Blended Learning Training with Certification