Lesson Learnt from COVID 19: Update and Realign the Global BCM Practices for 2022
Synopsis
This session provides an update for BCM professionals on the implication of COVID-19 while implementing and sustaining your business continuity momentum during 2022 or for the next 9 to 12 months.

Dr Goh Moh Heng [click photo to find out more about Dr Goh] will share its impact on the current BCM practices, including crisis management, crisis communication, and IT disaster recovery. There is also a need to relate and integrate our effort with our fellow professionals operating from the facility, security and health and safety management.

Finally, what can we anticipate for the coming few months with the new variants as we move toward the endemic phase?
Revisit BCM Guiding Principles for Managing COVID-19
In view of the spending of the two years of managing COVID-19, BCM professionals should start to get out of their traditional roles and responsibilities and reflect on the journey forward.
Always Looking Forward
There is a need to be forward-looking and always anticipate changes. Changes can range from the new types of variants, government and regulatory actions, human expectations and response to the pandemic.
Recognise Valuable Information or "Intelligence"
Begin to develop a system to recognise information that is of value to you and your organisation. This includes sharing information amongst a network of fellow professionals operating in the same region or even globally. Deployment of multiple sources will allow you to develop a model to be presented to your management. An example will be the reduction of lockdown and what is its milder form. Another is the return to the office and remote working.
Be Innovative and Responsive
In the face of rapidly changing business circumstances due to many changing factors, the ability to distil complexity and its impacts. This often leads to doing a process for the sake of the BCM execution or business process instead of focusing on what these processes should accomplish. Continue to accept that some of the processes implemented are no longer accomplish what they were initially designed due to the changing business circumstances.
The Re-look at the Specific BCM Planning Process
The traditional planning methodology is still applicable but requires some adaptations.
Business Impact Analysis

Business Continuity Strategy

Testing and Exercising
Business Continuity Strategies and Solutions
Work from home Vs Remote working
The concept of working from home (WFH) is often a privilege due to some exigencies. There is a serious need to re-look at this concept and be ready to change the mindset and also the physical deployment of your colleagues and staff.
| | | |
| --- | --- | --- |
| | Work from Home | Remote Working |
| 1 | A temporary option that stretched to a few days, | An actual working strategy where you are not part of the organisation's physical (fixed) workspace. |
| 2 | Still part of the organisation and has an emotional relationship with the organization. | Little or no emotional relation with organisation |
| 3 | Usually, the staff does not get this flexibility. | The staff has the flexibility to work from anywhere in the world |
| 4 | It is a temporary arrangement as the staff does not need to be concerned about the workspace. | The staff has to set up their own space and all the equipment needed for the long term. |
Current surveys and research data supports that post-COVID, organizations will lean towards "Remote Working" rather than WFH. However, the staff are required to return to the office more for emotional reasons.
Sustain Availability for Remote Access
There is a continuous need to provide remote access and deployment of cloud infrastructure technologies for the workforce. The development of a much more robust approach to home-network security is urgently needed. Organisations should make it a standard investment if we're going to be prepared for the next crisis
Alternate Site
The move to remote working and deployment of cloud solutions will result in the need for an alternate site. The trend is that there will be a serious review on the permanent acquisition of floor space for both staff and machines
Workforce Continuity Strategy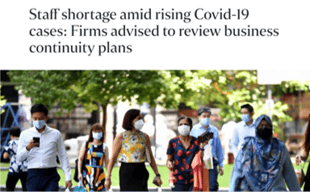 In view of the COVID-19 outbreak, especially with the OMICRON varient, there is a need to re-look at the different types of staff based on its "mission-critical" and "non-mission critical".
The categorization is useful for the identification of resources and training requirements. It includes the skillset needed for those mission-critical business functions.
| | | | |
| --- | --- | --- | --- |
| | Mission Critical | | Non-Mission Critical |
| 1 | Must be onsite to perform work | 3 | Can perform via remote access if sufficient appropriate resources |
| 2 | May work remotely | 4 | Cannot be performed via remote access |
Finally
The availability of vaccines and the improved herd immunity has allowed the government to open up access to each country, Be expected for more infection to take place.
Shortage of manpower continues to be the organisation's concern and that is why we need to categorize and plan for the resource now.
"Working from home" is a temporary situation, while "remote working" is an entirely different approach to getting things done. I am sure a variation of the latter will be the new normal.
The key is to ride out this pandemic outbreak but continue to maintain vigilance and upkeep the BCM professional support to the organization and your country of origin.
COVID-19 has stress-tested all organisations, start Futureproofing your BCM to address ongoing threats.
2022 Confirmed MTE Live Webinars
| | |
| --- | --- |
| | |
| Lesson Learnt from COVID 19: Updating and Realignment of Global BCM Practices for 2022 | Managing COVID-19: Challenges and Lessons on BCM Practices for Malaysia |
| | |
| Revisit Business and Cyber Resilience in the New Normal? | Managing COVID-19 in the Philippines: Challenges and Lessons on BCM Practices Now and the New Normal |
| | |
| --- | --- |
| | The content is an extract of the Meet-the-Expert webinar "Lesson Learnt from COVID 19: Update and Realign the Global BCM Practices for Endemic Phase" presented on 24 Feb 2022 by Dr Goh Moh Heng |
---

Come Join Our Online Blended Learning Training with Certification