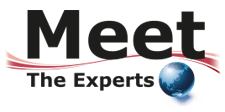 Meet-The-Expert or MTE seminar is a complimentary event to encourage knowledge-sharing amongst industry professionals within a specific country.
The MTE seminar addresses business and technical issues surrounding Business Continuity Management (BCM). Subject Matter Experts are invited to present their views to facilitate a fruitful dialogue, followed by a discussion session after each topic.
The MTE serves to set up as an interactive discussion platform for leading industry professionals to share BCM (Including CM, CC, DR, ISO22301 Audit and BC Planning) knowledge; this seminar enables the BCM Institute to serve the community better through this gathering of professionals to share or learn from each other.

Should anyone be keen on sharing their experience, the institute will welcome these Subject Matter Experts to present their views, followed by a discussion session. The fundamental principle is "No Selling" and only the sharing of good BC and DR practices.
Confirmed Program
These are the confirmed 2022 programs.:
Lesson Learnt from COVID 19: Updating and Realignment of Global BCM Practices for 2022
Managing COVID-19 in Malaysia: Challenges and Lessons on BCM Practices
Revisit Business and Cyber Resilience in the New Normal?
Managing COVID-19 in the Philippines: Challenges and Lessons on BCM Practices Now and the New Normal



Aligning BCM Towards Operational Resilience for Financial Institutions

Reworking Supply Chain Resiliency and BCM due to COVID-19 and the Ukraine Conflict

Related MTE Speaker Readings