Descriptor for Risk Rating and Risk Level
Once you have read the "Risk Likelihood" and "Risk Impact" blogs, the product of both will give you "Risk Rating".
Risk Rating is the product of Risk Likelihood and Highest Risk Impact.
It represents the overall Risk Rating of a threat (or crisis scenario) to the organisation taking into consideration the Risk Likelihood of the threat occurring and its Risk Impact.
Simply put, Risk Ratings = Risk Likelihood x Risk Impact.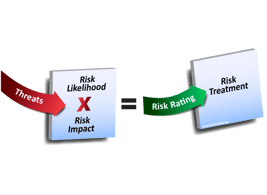 This is the perceived level of risk to the business unit as assessed against each identified threat. It is the overall level of assessed risk to the risk rating.
Explanatory Note for Diagram (below)
View the sample of risk ratings and their corresponding risk levels below.
Risk Ratings: Enter the value as 1 to 5, 6 to 11, 12 to 19, 16 to 20, 25.
Risk Levels. Enter the value as Very Low, Low, Medium, High, Very High.
Risk Ratings and Risk Levels
Learn More About Business Continuity Management (BC-CM-CC-ITDR)
You may want to know more about our courses.
---