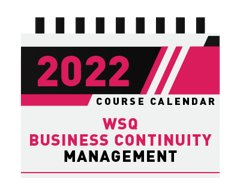 This is the Run 'of the WSQ Business Continuity Management (BCM) course for the year 2022. These competency-based courses are funded by the Singapore and Malaysia government for their citizens
For those who are completing the WSQ BCM series, you are required to complete WSQ-BCM-310, followed by WSQ-BCM-320 then proceed to WSQ-BCM-330.
The detailed "course content" and "course schedule" for Run 1 to 4 are appended below.
Do note Run with 'A' are blended learning and conducted via Zoom.
Year & Run
[BL-BCM-310-320-330] Run 1
Quarter
One (Jan to March 2022)

Module

Course Date
8 Mar 2022
15 Mar 2022
22 Mar 2022
Assessment
25 Mar 2022
25 Mar 2022
25 Mar 2022
Year & Run
[BL-BCM-310-320-330] Run 1A
Quarter
One (Jan to March 2022)

Module

Start date
28 Feb 2022
28 Feb 2022
28 Feb 2022
End date
10 Mar 2022
17 Mar 2022
24 Mar 2022
Assessment
25 Mar 2022
25 Mar 2022
25 Mar 2022
Year & Run
[BL-BCM-310-320-330] Run 2
Quarter
Two (Apr to June 2022)

Module

Course date
5 Apr 2022
12 Apr 2022
19 Apr 2022
Assessment
26 Apr 2022
26 Apr 2022
26 Apr 2022
Year & Run
[BL-BCM-310-320-330] Run 2A
Quarter
Three (July to Sept 2022)

Start date

6 June 2022

6 June 2022

6 June 2022

End date
23 June 2022
30 June 2022
7 July 2022
Assessment
15 July 2022
15 July 2022
15 July 2022
Year & Run
[BL-BCM-310-320-330] Run 3
Quarter
Three (July to Sept 2022)

Module

Course date
5 Jul 2022
12 Jul 2022
19 Jul 2022
Assessment
22 Jul 2022
22 Jul 2022
22 Jul 2022
Year & Run
[BL-BCM-310-320-330] Run 3A
Quarter
Three (July to Sept 2022)

Module

Start date

15 Aug 2022

15 Aug 2022

15 Aug 2022

End date
25 Aug 2022
1 Sept 2022
8 Sept 2022
Assessment
9 Sept 2022
9 Sept 2022
9 Sept 2022
Year & Run
[BL-BCM-310-320-330] Run 4
Quarter
Four (Oct to Dec 2022)

Module

Course date
4 Oct 2022
11 Oct 2022
18 Oct 2022
Assessment
21 Oct 2022
21 Oct 2022
21 Oct 2022
Year & Run
[BL-BCM-310-320-330] Run 4A
Quarter
Four (Oct to Dec 2022)

Module

Start date

31 Oct 2022

*

31 Oct 2022

*

31 Oct 2022

*

End date
10 Nov 2022
17 Nov 2022
24 Nov 2022
Assessment
25 Nov 2022
25 Nov 2022
25 Nov 2022
WSQ Course Offerings

Business Continuity Management
WSQ-BCM-310
WSQ-BCM-320
WSQ-BCM-330

Business Continuity Management

WSQ-BCM-410
WSQ-BCM-470

Crisis Management

WSQ-CM-360
WSQ-CM-460
Crisis Communication
WSQ-CC-350
WSQ-CC-450
WSQ-BCM Schedule
Please feel free to send us a note if you have any of these questions to sales.ap@bcm-institute.org