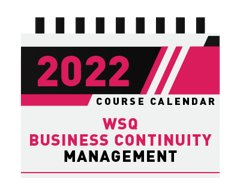 This is the Run of WSQ Business Continuity Management course for the year 2022. These competency-based courses are funded by the Singapore and Malaysia government for its citizens
For those who are completing the WSQ BCM series, you are required to complete WSQ-BCM-310, followed by WSQ-BCM-320 then proceed to WSQ-BCM-330.
The detailed "course content" and "course schedule" for Run 1 to 2 are as appended below.
Year & Run
[WSQ-BCM] 2022 Run 1
Period
January - March 2022

Click for detailed Course Description

Click for detailed Course Overview


Module

1
2
3
Course Date
8 February 2022
15 February 2022
22 February 2022
Assessment Date
25 February 2022
25 February 2022
25 February 2022
Year & Run
[WSQ-BCM] 2021 Run 2
Period
April - June 2022

Click for detailed Course Description

Click for detailed Course Overview


Module

1
2
3
Course Date
14 June 2022
21 June 2022
28 June 2022
Assessment Date
1 July 2022
1 July 2022
1 July 2022
WSQ Course Offerings

Business Continuity Management
WSQ-BCM-310
WSQ-BCM-320
WSQ-BCM-330

Business Continuity Management

WSQ-BCM-410
WSQ-BCM-470

Crisis Management

WSQ-CM-360
WSQ-CM-460
Crisis Communication
WSQ-CC-350
WSQ-CC-450
Please feel free to send us a note if you have any of these questions to sales.ap@bcm-institute.org